Prep Time: 40 minutes
Cook Time: 20 Minutes
Servings: 4-6
Ingredients:
1 can black beans, drained and rinsed

¼ cup dry quinoa

½ cup dehydrated potato flakes (or instant mashed potatoes)

1 bell pepper, diced

1 yellow onion, diced

1 garlic clove, minced

1 tsp ground cumin

½ tsp sea salt

¼ tsp ground black pepper

1 egg

3 Tbs extra virgin olive oil
Directions:
Cook quinoa according to package directions. Set aside to cool. 

Mash black beans. 

Preheat oven to 400 degrees F and line baking sheet with parchment paper. 

Season chopped pepper/onion/garlic with salt/pepper and coat with olive oil, then spread out on parchment lined baking sheet. Bake at 400 degrees F until tender and fragrant, about 10 minutes. 

In large bowl, add all ingredients including cooked veggies. Mix well until combined. 

Scoop ½ cup of mixture onto fresh parchment lined baking sheet in rows and gently flatten/shape into patties. 

Bake 10 minutes on each side.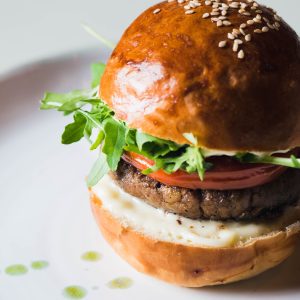 Chef Ayelet's Notes:
We have worked through various veggie burger recipes in our kitchen and have finally settled on this delicious black bean burger that is improved by some cooked quinoa that is added in. The flavors are tasty and the texture is crispy on the outside and soft on the inside. It holds together well! If you plan ahead, you can make the quinoa and mash the beans a day in advance so that the process of making the burgers goes faster.