Prep Time: 30 minutes
Cook Time: 10 Minutes
Servings: 15 bites
Ingredients:
1 cup dry gluten-free oats

½ cup sunbutter

1 Tbs ground flaxseed

1/4 cup honey or maple syrup

1/2 cup vegan chocolate chips

1 tsp vanilla extract
Directions:
Line baking sheet with parchment paper. 

Add all ingredients to large bowl and mix well to combine. 

Refrigerate and let mixture chill for about 1/2 hour (helps to prevent stickiness). 

While mixture is chilling, preheat oven to 350 degrees F. 

After chilling time, take tablespoon-sized portion of mixture in hand and roll into ball. Lay ball on parchment lined baking sheet. Repeat with remaining mixture. 

Note: If mixture isn't sticking together after resting period, you can add a little more sun butter or a few drops of water, stir well, and try rolling again. 

Bake at 350 degrees F for 7-10 minutes.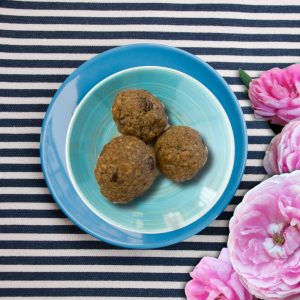 Chef Ayelet's Notes:
These little sweet snacks are a signature staple treat that we provide to our clients weekly, as well as a yummy snack that we have on hand for our weekly volunteers. They are especially decadent eaten warm from the oven! For our kitchen team chocolate lovers, making energy bites is always a fun shift.