Prep Time: 30 minutes
Cook Time: 10 minutes
Servings: 6
Ingredients:
20 oz white fish filet (example: wild cod or haddock)

2 eggs

1 lemon, zested and juiced

1 red pepper, finely diced

4 scallions, chopped fine

¼ cup fresh dill, de-stemmed and minced

2 Tbs capers, chopped

1/2 cup dehydrated potato flakes (instant mashed potatoes)

½ tsp ground cumin

¼ tsp ground turmeric

1 tsp sea salt

1 Tbs extra virgin olive oil

1 Tbs dijon mustard
Directions:
Preheat oven to 400 degrees F and line baking sheet with parchment paper.

Lightly season fish with salt/pepper and coat with olive oil, then bake at 400 degrees F for 12 minutes until cooked through and internal temperature reaches 145 degrees F.   

Let fish cool, then break apart and put in large bowl.

Add remaining ingredients to bowl and mix together well. 

Use ⅓ – ½ cup-sized scooper to form balls side-by-side on sheet pan. Carefully flatten slightly to create fishcakes. 

Drizzle with olive oil and bake in oven at 400 degrees F for 10 minutes or until golden brown.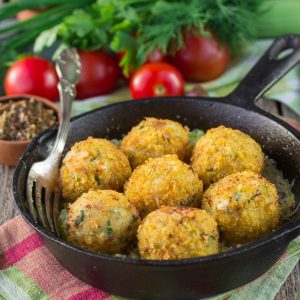 Chef Ayelet's Notes:
What I love most about these fishcakes is how bright they are in color and flavor. The juiced and zested lemon adds a wonderful freshness to the fishcakes and the turmeric and egg along with the lemon create a very bright color that contrasts so well with the bright red peppers that are visible. This is a signature dish for the healing meals kitchen, partly because it is a great way to provide the health benefits of wild seafood in a vibrant way.