Mediterranean Quinoa & Bean Salad
Prep Time: 45 minutes
Cook Time: 10 Minutes
Servings: 4-6
Salad Ingredients:
1 ½ cup quinoa

1 bell pepper, diced

1 yellow onion, diced

½ pint cherry tomatoes, halved

¼ cup fresh parsley leaves, chopped

1 cup baby spinach, chopped

1 can cannellini, drained and rinsed

½ cup sunflower/pumpkin seeds, toasted

¼ cup sun-dried tomatoes, drained and chopped

¼ cup green or kalamata olives, pitted and chopped
Dressing Ingredients:
¼ cup extra virgin olive oil

¼ cup lemon juice

½ tsp sea salt

½ tsp black pepper

½ tsp dried oregano
Directions:
Cook rice according to package directions. 

Preheat oven to 400 degrees F and line baking sheet with parchment paper. 

Season pepper/onion with salt/pepper and coat with olive oil, then spread out on parchment lined baking sheet. Bake in oven at 400 degrees F until fork tender and fragrant, approximately 10 minutes. 

In large bowl, combine all salad ingredients including roasted veggies and mix until combined. 

Add all dressing ingredients and gently mix until combined.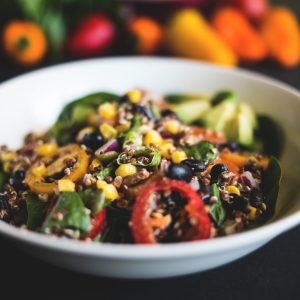 Chef Ayelet's Notes:
Chef Ayelet's notes: This salad is an adaptation of our signature Wild Rice & Chickpea Salad. Our rice & bean salads are a fantastic plant-based way to eat a variety of beautiful vegetables and also get a protein punch!